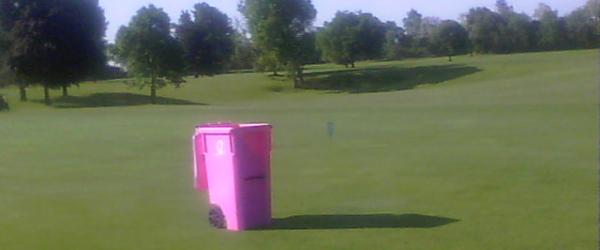 On Monday I had the pleasure of playing golf in the American Cancer Society's West Michigan Golf Classic event here in Grand Rapids. It was a well run event and lots of fun - all focused around the goal of raising $80,000 for ACS. It was a beautiful day and I had the honor of playing with a group of men that I work with at Cascade Cart Solutions. I was very nervous at first as I got partnered with Scott who is undoubtedly the best golfer in our company which is never a good thing because I am a complete hacker with absolutely NO TALENT but fortunately he was in a gracious mood. I did, however, redeem myself with a couple of decent putts including one which garnered me an award for 'longest putt'. I felt good contributing something to our team as I am very fond of my teammates and didn't want to let them down.
While it was a great morning, spent with terrific people, the highlight for me was one particular hole that sported a contest called 'Closest to the PINK Cart'! Yep, that's right! In the middle of the fairway there sat a beautiful PINK Cart for all to see and try to hit, the golfer who got their ball closest to the cart won it. And I am sure that everyone tried their best because they wanted to take the cart home. Last summer we donated hundreds of PINK carts to various events and consistently heard that at auction the carts were bought for $400 plus.
Don't you think that is a great idea? What if there was a PINK Cart in every golf tournament in the U.S. this summer focused on raising funds for cancer? Could we start a trend? Sort of a 'Where's Waldo' but instead 'Where's PINK?'
Hope you are all enjoying your summer!
~Jo-Anne