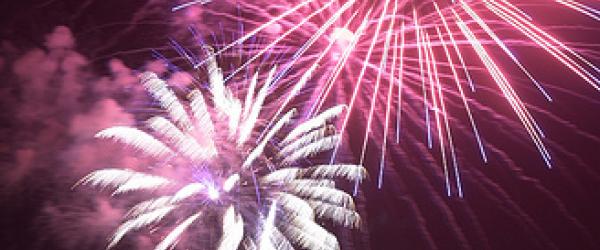 Independence is a wonderful feeling, one we'll celebrate for the 234th time on July 4. It's a birthday of sorts, and the gift is freedom. While the cake may be strawberry shortcake, apple pie or fresh watermelon, the candles are always sparklers that light up a night punctuated by the sounds of John Philip Sousa and blossoming fireworks over the lakes and across the baseball fields.
This July 4th you can also celebrate the promise of a different kind of freedom – the freedom to believe that breast cancer can be detected earlier and treated more successfully. And you can be an important part of it by purchasing a bright pink rolling trash can known as The Pink Cart.
One person's Pink Cart is another person's breast cancer trash can. What you call it isn't nearly as important as what you can do with it, and that list is growing as it rolls out across the nation. The 96- and 64-gallon sizes are perfect at the curb for trash, recyclables or yard waste – they're the same size and shape as most municipal- or private contractor-provided carts. These rolling pink trash cans also serve in the garage, storage shed or basement, storing sporting goods, toys, seasonal clothing and more. The 35-gallon size is just as helpful for smaller items.
Buy a Pink Cart and the American Cancer Society gets $5.00.That may not sound like a lot, but it will help support the almost 193,000 women who will be diagnosed with breast cancer this year. Approximately 41,000 of them will not survive - that's a number you can help reduce by picking up the phone and calling your contracted trash hauler or by purchasing a Pink Cart right here. The Pink Cart manufacturer, Cascade Cart Solutions, will give $5.00 to the American Cancer Society for every cart sold. The ACS will use it to help fund over 200 breast cancer awareness projects, committing $118.1 million to explore causes, prevention, early detection, and treatments.If you can grill a hot dog you can order a Pink Cart.
You can order all three sizes (35-gallon, 64-gallon, and 96-gallon) of The Pink Cart directly from Cascade Cart Solutions.
Send us your Pink Cart photos!
Do something fun with your Pink Cart around the yard, pool, beach, whatever - and send us photos. We'd love to see them! For example, why not enter your Pink Cart in your community Fourth of July parade? You can find photo-sharing instructions on our FAQ page.