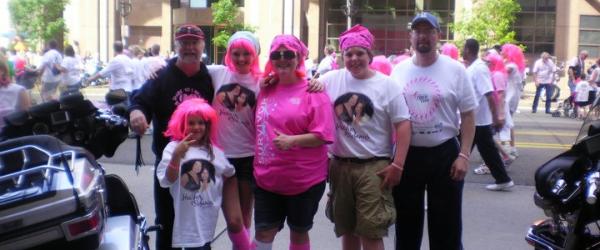 My name is Cheryl Rodriguez, I am 43 years old. I became a cancer survivor on December 24, 2008. On December 8, 2008 I had my yearly exam and my doctor reminded me to schedule my mammogram, so I dutifully did so for December 10th. On the 11th I received a phone call from the hospital stating there were areas of concern on my left side and I needed to return for a second scan. By the 15th I was instructed that I needed a biopsy and one could be scheduled after the first of the year.
No way was I going to wait for the first of the year for a biopsy! Through a friend, I located Breast Care Specialist Dr. Linda Han in Columbus, Ohio and scheduled an appointment for the 18th. After her physical exam, she simply stated that my left side was most likely cancerous and there were also areas of concern on my right side. We left her office with an appoinment for a breast MRI that same day and an appointment to return the following day for a biopsy in her office.
After the biopsy, Christmas Break began and I had 2 weeks off from work. My husband was with me every step of the way with his good-natured humor, support and off-the-wall comments. We have 4 children, ages at the time were sons, 20 and 13 and daughters, 12 and 5. We explained to them what was happening; they said additonal prayers and we continued our family routine.
Every year, my family hosts Christmas Eve. Everyone offered to host that year, but I wanted to continue the tradition at our home and keep everything as "normal" as possible for the kids' sake and my own. "The Call" came  at 3:00 that day and Dr. Han informed me that the left side came back positive and the right was negative. Many exclaimed that Dr. Han should have waited and not called until after the holiday, but my family and I needed to know ASAP and it was good timing as we had family coming over and we could tell them in person. God surely works in mysterious ways.
I had an MRI breast biopsy on December 31st (my 42nd birthday). Notice how all my dates are centered around holidays or special occasions.
The results for the right side were negative again. During my next visit with Dr. Han we began talking about treatment and the choices I was going to have to make. It came down to a lumpectomy or mastectomy.....either way "lumps were coming out." We met with Dr. Houser, a plastic surgeon, and scheduled the surgery for January 20, 2009 (Inauguration Day!). In the car on the way home, I told my husband that I was going to look like a freak. He immediately came back, in a sing-song voice, with, "She's a very freaky girl." I was laughing and crying at the same time.
The day of my surgery, Dr. Han came in and announced, "Today is a day of hope, no matter if you voted for Obama or not, it is a day of hope and from this day forward I will be cancer-free." It was right there and then I realized how serious of a situation I was in and Had CANCER! Weird as it may seem, I could only process that I had "breast cancer" and NOT cancer-cancer.
During my surgery and after, my husband kept family, friends and loved ones updated on my progress through my caring bridge site. We are so thankful for the love and support of family and friends and also for Caring Bridge as it was the best way to keep everyone informed.
During my treatment, I had to give up coaching 6th grade basketball, but was ready by softball season to coach my oldest daughter's team. The support that I received from the Allen East community was humbling to say the least. My team wore pink visors and pink logos on our jerseys. Our team spirit wear included a pink ribbon. We placed 2nd in our league and 3rd in our tournament.
Shortly after my hair fell out, my dear friend and co-worker lost his battle with luekemia on March 21, 2009. Prior to the knowledge of his passing, my husband sent me a text, "Look at the sunset". The timing of the text was the moment that Tony left this earth and entered into Heaven. (I have this text locked on my phone). Tony's wife requested that I speak at his funeral, I gladly accepted and was honored to speak about the life that he led.
My last treatment was February 11, 2010 and my 3-month follow up was on May 13th (my brother's 41st birthday).
My family and best friend participated in the Susan G. Komen Race for the Cure in Columbus on May 15th with FIFTY THOUSAND others! My dad had his Harley in Thunder Alley and revved his engine for us along with the rest of his HOG group.
I have no family history of breast cancer and I never did feel the lumps. The only reason we found out was because of my mammogram, which was only the second one I had had in my lifetime. We are true believers in "early detection is the best protection." Now my hair is coming back thick and curly and more gray than I really ever realized. But I'm here and living strong.
Peace, Love and Sunsets.
Cheryl Rodriguez
Bluffton, Ohio