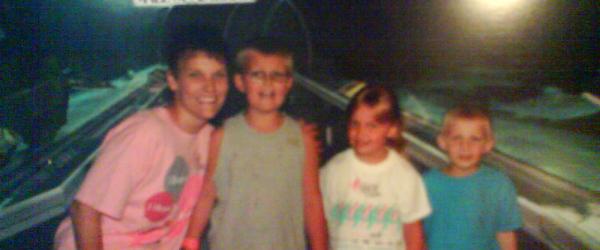 I am writing this story about myself. :)  I am a single mom of three awesome kids.  When I had just turned 34, and my children, Jake, who is autistic was just turning 4, Elle had just turned 2, and Tyler was 8 months old, I was diagnosed with Stage 3, HER2 and estrogen positive breast cancer with lymph node involvement.  My husband was still with me, but went into denial about my cancer.
My kids were what kept me going, they were the reason I made the decisions I did about my treatment.  I had a double mastectomy a week after my diagnosis and started chemotherapy 6 weeks later.  All of my children were still in diapers. Jake wasn't talking yet and was going to early intervention autism school and therapy. Elle was getting OT for some developmental delays.  I had chemo every week for 17 months, 6 weeks of radiation and a complete hysterectomy before finishing treatment.
I am now 39 and my husband walked out 6 months ago. My Jake is now 9 1/2 and an amazing, brilliant and lovingly funny young man.  My Elle girl is almost 8 and such a caring and artistically gifted young lady who seems too old for her age.  She is a little me who has her daddy's eyes. :)  And, my baby Tyler, who is 6 now, I have to look at photos to remember a lot of his childhood.  They are growing so fast and their Mommy is struggling to keep up.
I am living, but not without consequences.  My body is beaten down from the extensive chemo and I live everyday with pain from nerve damage and memory and cognitive issues.  But I did this for my children and the drive to be here for them, not giving up because they were the most important things to me.  They saved my life and I'm here because they needed me! :)  I am so proud and raise awareness of this disease and the strength you have to find in order to fight it.  It would be wonderful for us to show our support with your AWESOME Pink Cart.  It totally fits the personality of our family!
Thanks so much!
~Kathy, Jake, Elle and Tyler