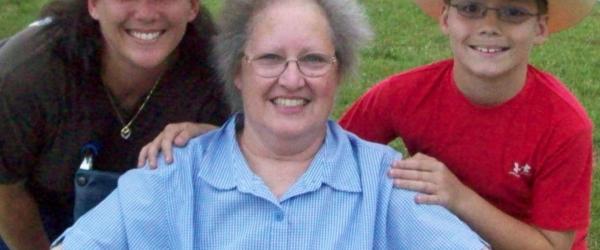 My mom's story is not a success with life, but a success with the legacy that she left behind. Mom grew up in a small town, learning the values of family, hard work, and dedication. She was one of two girls. At an early age, she lost her mom to breast cancer and later in life, lost her sister to the disease. I will never forget the day in 1991 when Mom was first diagnosed. Ovarian cancer. She battled and won this round after a hysterectomy and treatment. Then in 2007, she was diagnosed with breast cancer. After a double mastectomy and more treatment, she conquered this round. Then in 2009, the cancer had spread to her brain. Once more, she came out of everything with a will like no other. In January 2010, MD Anderson Cancer Center told us of more tumors. Even though Mom's chances were not great, she never gave up! She fought cancer like a true soldier in battle - hard core. But, she also fought the disease with grace and dignity. Even on the days that she was so weak and frail, she never lost her smile nor her will power. She never let cancer or any of the treatments or side effects stand in the way of being there for me or her grandson. On July 29 2010, another angel got her wings!
Even though my mother is no longer here with us in physical form, her spirit lives on in all of those that her soul touched. Seeing what all my mother had to endure and watching her do it with determination and faith, I only pray that if I am ever in her shoes, I will have the courage that she had. Her life is truly an inspiration to me and even though she lost her battle, I hope that others can find hope and determination in her courage and strength. I think her message would be along the lines of ... "never give up, never let cancer get you down, live life to the fullest, keep your faith, and NEVER EVER STOP SMILING (even if it takes all of your energy to do so)."
I was given this saying after Mom passed away and would like to pass it on ...
God saw you getting tired and a cure was not to be. So, he put his arms around you & whispered "come with me". With tearful eyes I watched, and saw you pass away. Although I love you dearly, I could not make you stay. A golden heart stopped beating, hard working hands at rest. God broke my heart, to prove to me, he only takes the BEST!