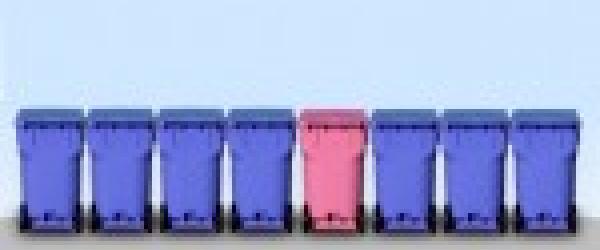 Eight homes. Eight rolling trash carts. One of the carts is bright pink, underscoring the fact that one in eight women will likely develop breast cancer within the next 10 years.[1]
2009 estimates indicate that almost 193,000 women were diagnosed with breast cancer and that about 41,000 will not survive.[2] There are many ways to treat breast cancer - surgery, chemotherapy, radiation therapy, immunotherapy, and vaccine therapy – and research continues. But cancer research takes money, lots of it. Where will it come from?
More Pink Carts at more curbs.
Purchase a Pink Cart and we'll give $5 to fund breast cancer awareness programs. Add a neighbor or two and the Pink Cart movement grows even more powerful.
Tell your neighbors about your commitment (they definitely want to know more about your Pink Cart!) and how easy it is to join you. The more Pink Carts on the curbs of your neighborhood streets, the faster the cure for breast cancer will be found.
The versatile, practical Pink Cart.
The 96- and 64-gallon rolling pink waste carts are ideal for weekly trash pickup at curbside; it's the same cart provided by many municipal and private waste collection companies and will serve your trash needs for a decade or more. Contact Cascade Cart Solutions for approved haulers in your area. You can use it for trash as well, providing it meets the requirements of your hauler. It's also handy for storing other things: pet food (think horses, multiple dogs), sports equipment (anything smaller than a hockey stick), returnable beverage cans and bottles, yard waste, pet bedding, fertilizer, pool and yard toys … and many other uses in your garage, yard, basement, storage shed or pole barn.
Every time you use your Pink Cart, you'll be reminded of your financial support of the American Cancer Society and the fight against breast cancer.
The Pink Cart not only rolls, it rocks.
---
[1] Based on cases diagnosed 2000-2002. "1 in" are approximates. Source: American Cancer Society Breast Cancer Facts & Figures, 2005-2006.
[2]National Cancer Institute - http://www.cancer.gov/cancertopics/types/breast