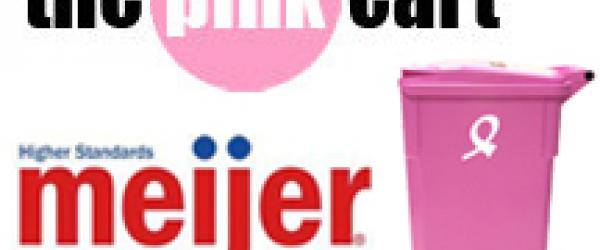 Mom went to Meijer to buy a Pink Cart!
The bright pink rolling trash cart that has captured the hearts of online shoppers has gone retail! Yes, you can still get Pink Carts through local haulers, distributors, but some of you can also simply go to your nearby Meijer and buy a 64-gallon Pink Cart along with a gallon of milk or a couple cans of paint.
The 64-gallon Pink Cart can be found at these Meijer stores.
Meijer now has another product to add to your shopping list. The cheery pink trash cart on wheels, 64-gallon in size, is now sold at these participating Meijer stores in Illinois, Indiana, Kentucky, Michigan and Ohio. Look for them in the aisle with other plastic storage containers, displayed like this. You can't miss them!
Meijer and Pink Cart join with you to raise breast cancer awareness.
Unless you're a brand-new visitor, you know that for every Pink Cart sold, Cascade Cart Solutions (CCS) donates $5.00 to the American Cancer Society (ACS) to help raise funds to promote breast cancer awareness programs. CCS and the ACS welcome the participation of Meijer in this effort to raise awareness and increase the number of women who catch breast cancer early, helping to stop a disease that affects 1 in 8 women nationally, claiming 41,000 beautiful lives each year.
So roll into Meijer and roll out a Pink Cart!
There could be a Meijer near you that wants to help kick  cancer to the curb! Add a Pink Cart to your shopping list, keeping in mind that they also make a great gift. A 64-gallon Pink Cart, while dainty compared with the 96-gallon rolling Pink Cart distributed by many trash haulers, may still be too big for your trunk. So take a friend with a truck,  suv, van or trailer – and remember, you can buy more than one!