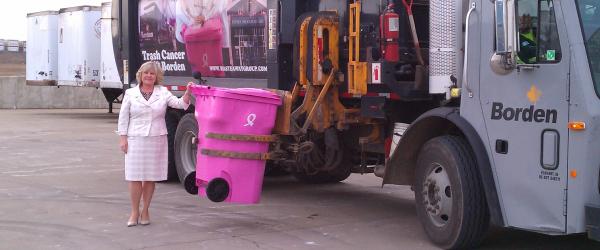 PINK is too girly, too cutesie, too feminine. Believe us, after a year of working on the Pink Cart program, we've heard it all. Teenage boys, husbands, fathers, and yes, women, too, all have something to say about Pink Carts. Too bold, too brazen, too bright. And that's ok with us, because that's exactly why we make them PINK!
These beautiful, bold Pink Carts make you stop and think about what they represent. They make you think about Breast Cancer - about its causes, its treatments, its risk factors, about the people it affects and the mark it leaves on families. They raise awareness, and that's the whole point. And there are plenty of men (and women) who proudly sport PINK when it represents a cause as important as the fight against breast cancer...even if they wouldn't be caught dead in PINK at any other time. This week we're giving a big shout out to all those men who make a statement with PINK - whether they wear it, buy it, or roll it to the curb - your support means the world to us.
And of course, we have to send a big THANK YOU to the other men and women who have stepped up and really supported this program - our Haulers, Distributors and Retailers! By offering Pink Carts, they make the statement that rather than being too girly, too feminine, too bold, PINK is TOO IMPORTANT not to support!
By giving their customers the option to roll PINK to the curb, by offering additional donation programs to support breast cancer charities in their communities at American Waste Systems in the Carolinas, by wrapping their trucks with PINK at Borden Waste Away in Indiana, by outfitting the collection crews in that eye catching hue at Everkept in Michigan, we see our Pink Partners' passion for the cause every day. And we couldn't have the impact we do without each and every one of them - and each and every one of you calling, petitioning, and asking your haulers to bring Pink Carts to your community. You are a key player in our success to raise awareness and funds in the fight against breast cancer in the U.S. and Canada.
Who do you want to give a shout out to in honor of their efforts to sport PINK? Leave a comment and tell us all about them!