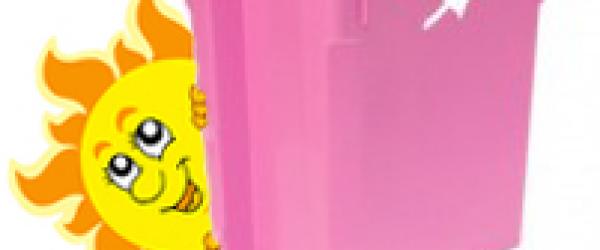 Summer hasn't yet arrived on the calendar but nesting birds, sprouting dandelions and the sound of kids chasing each other through the neighborhood mean that it's time to get out and enjoy the great outdoors!
This summer bring something new to your outdoor living – the Pink Cart, the bright pink rolling trash can and all purpose carts that are proving to be quite helpful around the house, garage, yard, campsite and beach.
What can you do with a Pink Cart?
The list is endless with three cart size options. Well, almost. You've already heard about how folks are using the 64 and 96-gallon sizes at the curb, replacing their municipal- or private contractor-provided trash can. These rolling carts also see duty in the garage or the storage shed, holding recyclables, sporting goods (hockey sticks and skis/ski poles), seasonal clothing and more. And you may have seen some in yards, helping homeowners collect yard waste. Summer brings new uses – beach/pool toy storage, camping organizer/tote, beverage cooler, even a behemoth sand castle form (Note – don't try this alone.).
What can a Pink Cart do for you?
It can make you feel really good as you support the almost 193,000 women who will be diagnosed with breast cancer this year. Approximately 41,000 of them will not survive[1], a number you can help lower.  Breast cancer research costs money - you can help by purchasing a Pink Cart right here, or through your contracted trash hauler. The Pink Cart manufacturer, Cascade Cart Solutions, will give $5.00 to the American Cancer Society for every cart sold. The ACS will use it to help fund breast cancer awareness programs,[2] committing $118.1 million to explore causes, prevention, early detection, and treatments.
Buying a Pink Cart is as easy as sipping a cold lemonade.
You can order your 35, 64, or 96-gallon Pink Cart directly from Cascade Cart Solutions. If your hauler doesn't offer The Pink Cart, contact Cascade Cart Solutions, provide the name of your hauler, and CCS will contact them.
Send us your Pink Cart photos!
Do something remarkable with your Pink Cart around the yard, pool, beach, whatever - and send us photos. We'd love to see them! For example, why not enter your Pink Cart in your community Memorial Day or Fourth of July parade. Just don't put anyone inside, OK? You can find photo-sharing instructions on our FAQ page.
Pink Cart Days
Looking for an opportunity to get more involved in the effort to find the cure for breast cancer. Need a special day to give a Pink Cart to a special person? Here you go:
May 22, 2010 (Sat) (Detroit, MI) Komen Detroit Race for the Cure
May 31st (Mon) – Memorial Day
June 5th – World Environment Day
June 9-11 (Chicago, IL) Global Summit on International Breast Health
July 4th (Sun) – 4th of July
August 13-15 (Detroit, MI) Susan Komen 3-day For The Cure
---
[1] National Cancer Institute - http://www.cancer.gov/cancertopics/types/breast
[2] American Cancer Society/Cancer Reference Information http://ow.ly/1r2f3