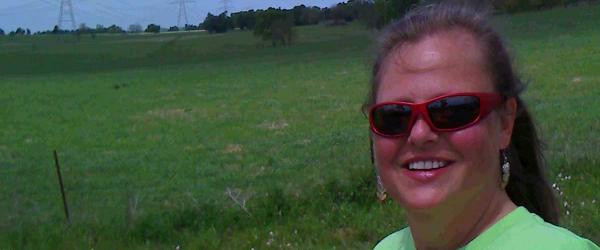 Breast cancer touched my life when I was 23; my sister was 28 when she was diagnosed.  When I heard the news, I cried and cried thinking her life was over. 
She had a lumpetomy then did chemo and radiation. I took care of her a lot during this process.  I had to shave her head when her hair started falling out, I took her to the doctor and to chemo treatments. But she BEAT it! She was cancer free!  She even made the 5 year Survivor mark. 
Then on her 7 year check up, it was back in the opposite breast and she underwent a double mastectomy, chemo and radiation. While she was going through treatment this time, I was taking care of my mother who had to have her leg amputated.  My sister was married this time so his family helped with her doctors appointments and chemo treatments.  Again, she was cancer free!  She hit the 5 year survivor mark again.  
Then in 2010 she was having major neck pain and her primary doctor sent her for an MRI - they found a mass in her and sent her to a ENT and he said he could not find anything wrong.  I loaded my sister up and took her to MD Anderson Cancer Center in Houston to the ER.  Their head and neck doctor ordered a CT scan and later came and said he was 95% sure she had metastatic breast cancer in the lymph nodes in her neck.  He was 100% right. 
I knew what those words meant but my sister was not giving up.  The doctor said no surgery, it was stage 4, terminal.  She cried but my sister fought so hard.  She did chemo and it didn't work. They sent her home for Hospice care at the end of October 2011.  She was now divorced and never had children so I brought her to live with me and my family.  I was scared and had no idea if I could watch what was going to happen.  My sister never ever gave up hope.  She slowly got worse and got to where she could not eat.  She ate on Christmas Day but after that could not swallow very well so we would freeze tea to a slush form and she would eat it with a spoon.  She made New Years but she was getting weaker and weaker.  She would still smile and was still fighting. 
Then on my 40th birthday friends came over to sit with her so my husband and son could take me out to dinner.  When we got home, I knew it was starting.  Her foot was turning blue.  During the night I could tell she was getting worse so I called the girlfriends that had been visiting every day and said it had started.  During the next day she was not able to talk due to her mouth being so dry.  She pointed to me and I said "Me?" and she shook her head yes, I leaned down to hear what she had to say and she asked me if my birthday was over, and I told her "Yes, my birthday is over and you can go now".  That was the toughest thing I have ever done, to tell my sister to quit fighting.  I didnt want her to go, I wanted her here with me.  There were about 12 family members and friends that were there and she was already incoherent and we gathered around her bed and said a prayer and everyone started singing Amazing Grace. And when we were finished singing, my sister took her last breath as a single tear rolled down her cheek.  That was the hardest thing I have ever seen.  The tear meant a lot - since she was sent home on Hospice care she NEVER shed a tear.  She was so scared to cry, scared that she would not be able to breathe since she could not swallow very well.  So cancer touched me in a bad way.  My sister died January 7,2012. She fought cancer for 17 years and I have never seen a stronger person.  She is my hero.