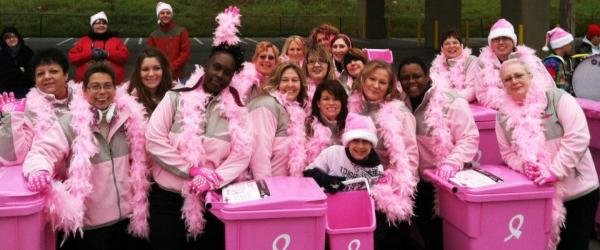 You've probably seen the pictures on Facebook by now. A sea of women (and one proud guy) dressed to the nines in pink jackets and feather boas. The team, or as we call them, 'Warriors in Pink', danced and chanted for the crowds gathered for the Grand Rapids Santa Claus Parade last Saturday. The onlookers loved it, saying it was their *favorite* part of the parade, next to Mr. Claus himself. Our dancers fed off their support and their energy and gave it their all. You can see the video of the routine here.
Our team of dancers was made up of Breast Cancer Survivors and the very people who make Pink Carts possible - the employees of Cascade Engineering and their families. Dancing, chanting, handing out candy, and just walking with the team to sport their PINK - the passion and the dedication to the cause was palpable, and it was so moving. We were so grateful for all of their hard work, the time they spent rehearsing the routine, showing up before the sun that morning and waiting for our turn to enter the parade in the brisk cold morning air. Our Warriors in Pink were committed to their core.
We realized that this small group of Pink Warriors was a microcosm of our entire Pink Cart Community. You all have shown such passion for defeating breast cancer, for funding research in Canada and raising awareness in the States, for promoting early detection and regular breast health screenings in your communities. You show us your passion through blog posts where you tell your own stories, you share your breast cancer victories with us on facebook, and, to us, the most amazing way you show your passion - over 40,000 of you roll a Pink Cart to your curb every week! Our Warriors in Pink showed us the energy that is needed to defeat breast cancer - and they reminded us of how lucky we are to have so many more Pink Warriors out there with such amazing passion for this cause.
To all of our waste haulers, cities, and especially to all of you, our individual fans and supporters - this year, we are THANKFUL FOR YOU! We wish you all a very safe, happy and filling Thanksgiving. Thank you for all you do in the fight against breast cancer.