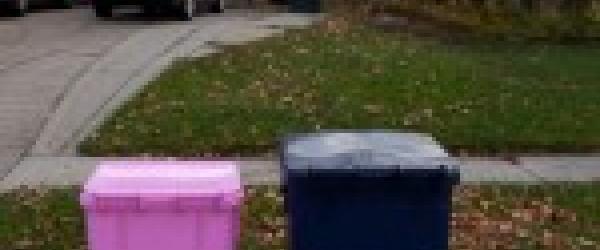 In thousands of communities across the country, tomorrow morning is trash day, also known as rubbish day or garbage day and, in more forward-thinking, sustainable municipalities, recycles day.
In physicians' offices across the country, tomorrow is also a day that thousands of women will learn that they have breast cancer, one of the most common forms of cancer in women. Breast cancer is the number one cause of cancer death in Hispanic women. And breast cancer is the second most common cause of cancer death in white, black, Asian/Pacific Islander, and American Indian/Alaska Native women.[1]
The link that ties these seemingly unrelated facts together? Pink rolling trash carts. Here's how …
Rollin', rollin', rollin', hear those Pink Carts rollin'.
Tonight, in hundreds of thousands of garages across the country, people just like you will be stuffing the family garbage can, cramming plastic bags to the breaking point, separating paper from plastic and plastic from metal, and then carrying or rolling it all to the street for curbside trash pickup. But many of the people rolling waste carts to the curb will also be playing an important role in the war on breast cancer.
Pink Carts welcome the sunrise.
When the sun rises on trash day it shines on block after block of garbage cans, trash bags and rolling waste receptacles, a palette of dull browns, dusty greens, faded blues, bright pinks …
Bright pink carts?
Yes, bright pink rolling trash carts, conspicuous, but in a very good way.
And there's something about this particular shade of pink; you've seen it before on … ribbons.
Pink ribbons! The American Cancer Society, with years of nationwide promotions and publicity, continues to wage war against breast cancer, one of the biggest threats to the lives of wives and sisters, mothers and daughters, friends and lovers.
But how can Pink Carts play a role in the battle?
Pink Carts curb cancer.
Even as appreciation of the simple beauty of the idea of owning a Pink Cart is still taking shape, you're thinking, "How do I get one?" Next thought: "Buying a Pink Cart is one thing I can do to help curb cancer."
Rolling a Pink Cart to the street says that you've stepped up to support the fight against breast cancer, the disease that claims the lives of more than 41,000 women each year.[2]A Pink Cart says you've made a promise to help curb cancer.
Get your own Pink Cart.
Want a Pink Cart of your very own? It's easy. You can contact Cascade Cart Solutions to find out if your hauler is participating. Or you can order the 35, 64, or 96-gallon Pink Cart on-linedirectly from Cascade Cart Solutions. $5.00 from each Pink Cart sale goes directly to the American Cancer Society to help fight breast cancer.
The Pink Cart not only rolls, it rocks.
---
U.S. Cancer Statistics Working Group. United States Cancer Statistics: 1999–2005 Incidence and Mortality Web-based Report. Atlanta (GA): Department of Health and Human Services, Centers for Disease Control and Prevention, and National Cancer Institute; 2009. Available at: http://www.cdc.gov/uscs.
Underlying mortality data provided by CDC's National Center for Health Statistics.